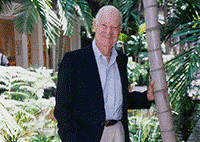 The Whitman family enjoyed a record sales year at their high-end Bal Harbour Shops.
Average sales at the retail hub rose 7.4 percent from 2012 to 2013, South Florida Business Journal reported. The shops generated an average of $2,800 per square foot in sales last year. Numerous tenants, including Dolce & Gabbana and Prada, took the opportunity to expand in 2013.
"Our specialty department store category, comprised of Neiman Marcus and Saks Fifth Avenue, was up solid double digits for the year, as was our restaurant category," Bal Harbour Shops operating partner Matthew Whitman Lazenby told the Journal.
The 6,400-square-foot Grill at BalHarbour restaurant is set to open soon at the mall.
Bal Harbour Shops founder Stanley Whitman turned 95 in November. [South Florida Business Journal] — Eric Kalis